Tire Shredder
View large picture
Description

Video

Business Terms

Equipment Service
Car or Truck tire/tyre Double Shaft Shredder Summary Info:
WANROOETECH's newly developed tire or tyre shredder which can shred car truck tires of up to 1200mm into strips and pieces of approx. 150 mm 300 mm. WANROOETECH tire shredders are heavy duty double shaft shredders. They feature additional wear protection compared to other shredders. The machine is equipped with a specially designed rotor, made of highly wear resistant steel with added weld on hard facing for longer lifetime. The blades used in these shredders are made from a newly designed, specialized material to ensure long life time and optimal performance, they can reuse again after sharpening.
Our PNSS series shredders are discharged by a conveyor belt and transferred to the next second stage tyre shredder or tire crusher. This second stage shredder or crusher is shredding the material into pieces of about 20 mm. This step helps to separate the tire rubber from the steel and fiber. A combination of cross belt magnetic separators and magnetic drums helps to split the various factions at this stage in the process. During metal separation we can take out about 99% of the total steel content. And the fiber also can be separated on another device. The steel free rubber or tire granule can then be packed and used as refuse derived fuel or transferred to the granulating process, and other applications, such as: runway, School playground, rubber tiles, waterproof material, reclaimed rubber, tire additives, thermal insulation material additives.
| | |
| --- | --- |
| | |
| Wear Resistant Alloy Blades for Tire Double Shaft Shredder | Tire Processed by PNSS Series Double Shaft Shredder |
Components: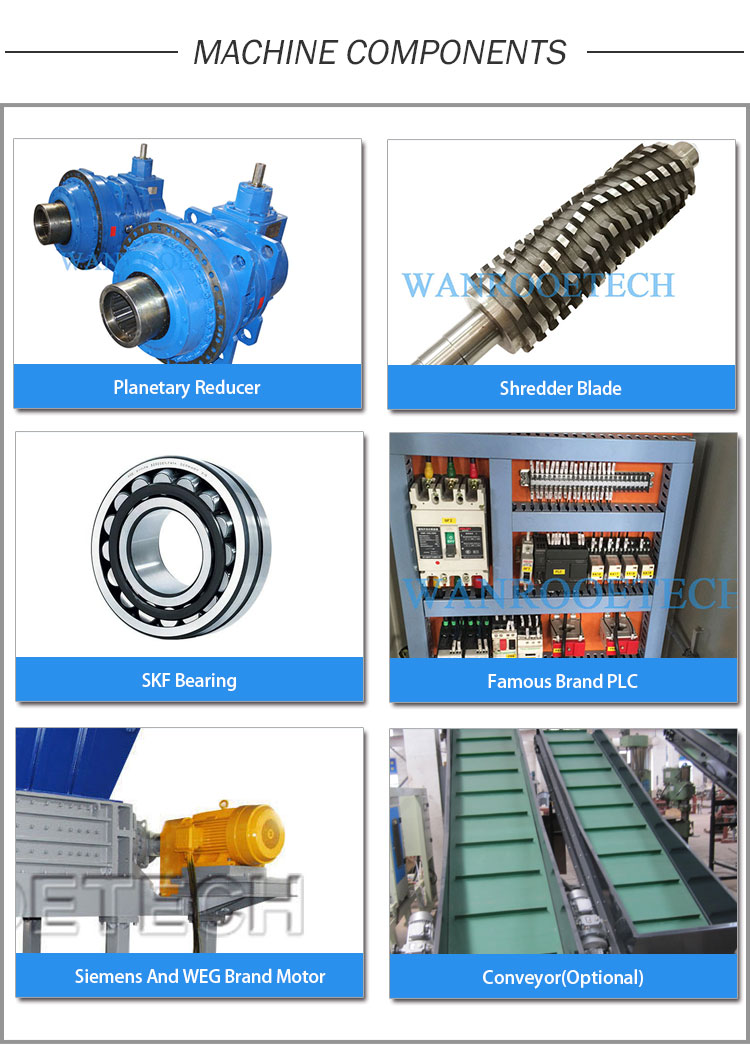 Application Areas:
•Civil Engineering Applications: They can be used as landfill gas trench collection walls, as back fill for road landslide repair, as vibration reducing material for railway lines and as back fill for maintaining walls.
•Ground and Crumb Rubber: For example, it can be used in paving projects or be moulded into products. Common examples of rubber moulded products include carpet padding, rubber flooring materials, patio decks, livestock mats, movable speed bumps, sidewalks, dock bumpers, railroad crossing blocks just to mention but a few.
•Carbon Source: Instead of using coke or coal in steel mills, rubber can be used as a source of fuel. In fact, studies have recommended that steel mills should adopt burning of rubber as fuel instead of coal, since coal is mined and can be depleted. Using rubber as fuel is a great way for these mills to go green and reduce their carbon fingerprints.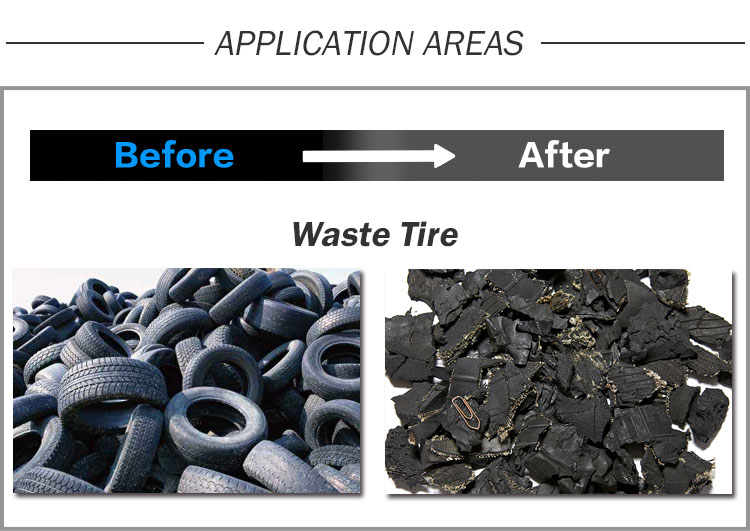 PNSS series Tire Double Shaft Shredder Machine Technical Info:
Model

PNSS-800B

PNSS-1200B

Main Shaft Shredder

37KW+30KW

45KW+55KW

Screen Motor Power

3kw

4kw

Screen Speed

3-6RPM

3-6RPM

Tire Diameter

≤800mm




≤1200mm




Output Size

≤

50mmX50mm




≤50mmX50mm




Capacity

1000-2000kg/h

2,000-4000kg/h

Noise

≤75dB(a)




≤75dB(a)




Dimension




2.8mX2.1mX2.4m

5.2mX2.8mX3.5m

Weight

5.8Tons

15.6Tons
Product Type:Heavy Duty Used Tire Shredder
Used For Material:Truck Tire,Car Tire
Place of origin:China
Price Terms:FOB, CIF
Payment Terms:L/C,T/T
Package:Wood Box, Wood pallet, tailor-made
Delivery Time:60-90 Working days
Brand Name:WANROOETECH
Delivery Times
30-90 working days since receiving advance payment. If you cannot wait for this suggested delivery time, please contact us freely, we will make any arrangements we can to meet your requirements.
Packing
Wood Pallet, fumigation-free wooden cases if necessary. All the key parts of the equipment will be painted with anti-rust oil before shipment and packing.
Technical documents
WANROOETECH will offer you all necessary documents, e.g. general layout plan, electrical diagram and user manual after the contract is executed.
Arrangement for inspection, installation and testing work
After informed machines ready for inspection, customer can send engineers to WANROOETECH; Customer also can consign WANROOETECH to finish inspection work.
When the machines are delivered to customer's factory, please arrange preparation work before engineers arrive if require.
WANROOETECH will send technicians to the factory after preparation work is completed;
Technicians will be responsible for guide on-site installation and testing machines involved.
Meanwhile technicians will give free training lessons to labors in customer's factory.
The customer just needs to bear expenses generated for this work, e.g. airplane tickets (round-way), residency, meals and allowance of USD50 per day for each technician.
Quantity and quality guarantee
A: Quantity/Quality Discrepancy to destination port during transportation:
In case of quality/quantity discrepancy to destination port in transportation, customer should file claim within 30 days after the arrival of the goods at port of destination.
B: Guarantee period and after-sales services:
12 month since installation finish and machine normal working. During this guarantee period, WANROOETECH will provide spare parts without any charge in case of quality discrepancy caused by us. If the malfunctions are caused by your incorrect operations, WANROOETECH will provide spare parts at cost.
C: Long-term service:
WANROOETECH will charge the buyer cost of spare parts beyond guarantee time and provide long-term technical guide.
Didn't find what you are looking for? Post a buying lead.
Truck Car Tire Double Shaft Shredder - manufacturer search on: Google, Yahoo, Msn
Related Searches: