Tire Cutter Machine
View large picture
Description

Video

Business Terms

Equipment Service
Description:
Tire cutting machine is a special equipment to cut large steel tires, fiber tires and other various waste tires that have been removed the sidewall steel ring. The tire cutter machine can cut various kinds of waste tires into rubber blocks with required specifications, which is convenient for the crushing of follow-up equipment. The main components of the waste tire cutting machine include: motor, moving knife, fixed knife, cylinder, hydraulic system, control box, rack and rotating mechanism, etc.
Working principle:
The motor drives the hydraulic system and the cylinder, and the tire is placed between the two blades. Firstly, the lock cylinder is operated to rotate the lock arm, and fasten the tire between the blades. Then cut the cylinder to rotate the moving blade, and to prompt the shear potential formation of the two blades, and finally to achieve the effect of shear.
Features :
1. The cutlery of the waste tyre cutting machine is made up of high-quality materials, which has the advantages of big shear knife, good shear effect, rapid shear speed, low energy consumption, durable, and long service life.
2. The tyre cutting machine has automatic reset function after cutting tires, which is simple, convenient, safe to operate.
3. High pressure of the hydraulic system, low operation noise, and the device can be used continuously.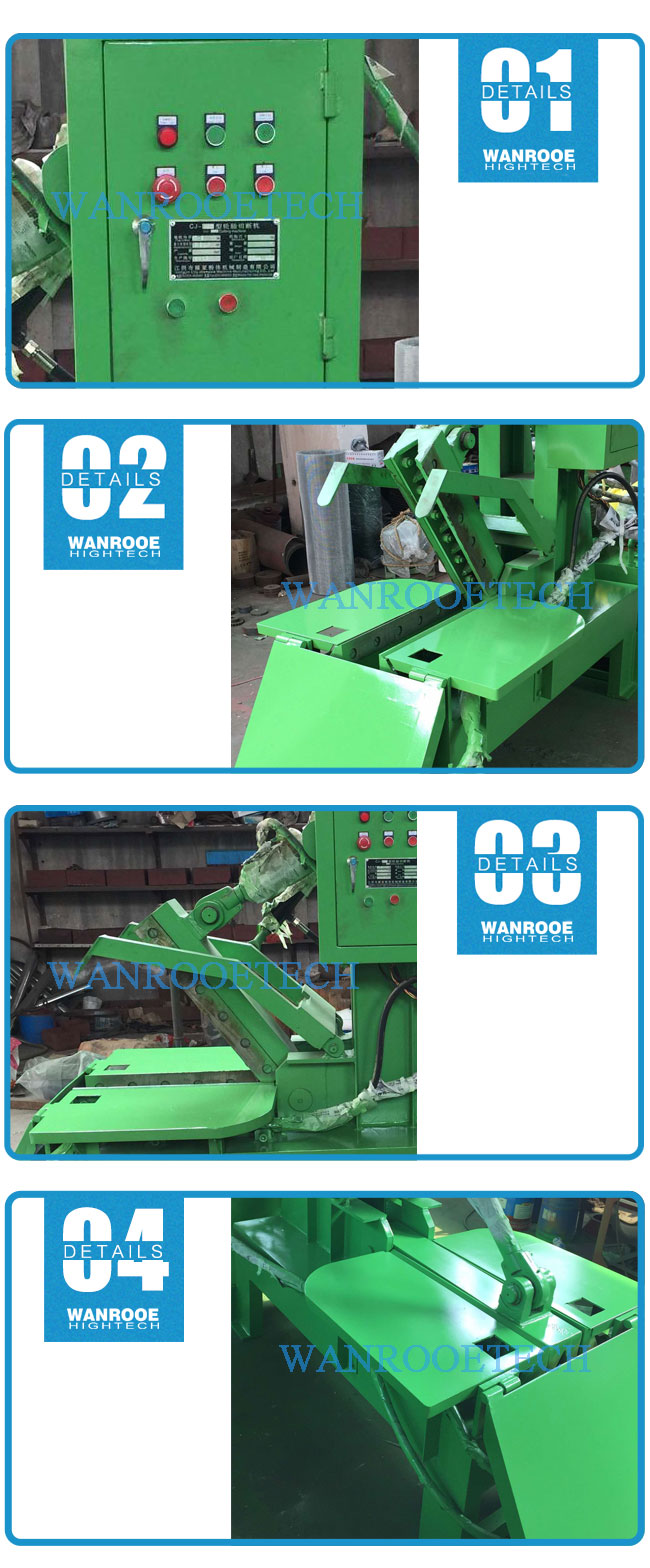 Applications :
The waste tire cutting machines can be used for cutting a variety of rubber blocks,, rubber strips. It is suitable for cutting various oblique rubber tires, steel wire tires, rubber strips and other rubber materials. Moreover, the machine also has other important applications:
* The tire cutter is also used as pretreatment device in tire pyrolysis plant, which can greatly improve the pyrolysis efficiency. We also have supporting equipment for sale: tire shredder, tire crusher, etc.
* The tyre cutting equipment is also an important step in the rpoduction of tire recycling plant, rubber recycling plant and rubber powder production line. It is an essential part to make rubber powder or rubber granules.
Product Type: China's Better Quality Manufacturer for Tire Cutter Machine
Used For Material: car tire、 bus tire、car tyre material etc
Application Field:tire recycling
Place of origin:China
Price Terms:EXW,FOB, CIF
Payment Terms:L/C,or T/T
Package:Wood Box, Wood pallet, tailor-made
Delivery Time:15-30Working days
Brand Name:WANROOETECH
Delivery Times
30-90 working days since receiving advance payment. If you cannot wait for this suggested delivery time, please contact us freely, we will make any arrangements we can to meet your requirements.
Packing
Wood Pallet, fumigation-free wooden cases if necessary. All the key parts of the equipment will be painted with anti-rust oil before shipment and packing.
Technical documents
WANROOETECH will offer you all necessary documents, e.g. general layout plan, electrical diagram and user manual after the contract is executed.
Arrangement for inspection, installation and testing work
After informed machines ready for inspection, customer can send engineers to WANROOETECH; Customer also can consign WANROOETECH to finish inspection work.
When the machines are delivered to customer's factory, please arrange preparation work before engineers arrive if require.
WANROOETECH will send technicians to the factory after preparation work is completed;
Technicians will be responsible for guide on-site installation and testing machines involved.
Meanwhile technicians will give free training lessons to labors in customer's factory.
The customer just needs to bear expenses generated for this work, e.g. airplane tickets (round-way), residency, meals and allowance of USD50 per day for each technician.
Quantity and quality guarantee
A: Quantity/Quality Discrepancy to destination port during transportation:
In case of quality/quantity discrepancy to destination port in transportation, customer should file claim within 30 days after the arrival of the goods at port of destination.
B: Guarantee period and after-sales services:
12 month since installation finish and machine normal working. During this guarantee period, WANROOETECH will provide spare parts without any charge in case of quality discrepancy caused by us. If the malfunctions are caused by your incorrect operations, WANROOETECH will provide spare parts at cost.
C: Long-term service:
WANROOETECH will charge the buyer cost of spare parts beyond guarantee time and provide long-term technical guide.