Metal Powder Coating Pulverizer Mill Or Grinder
View large picture
Description

Video

Components

Business Terms

Service
Overview
WANROOETECH is pleased to introduce itself as a leading manufacturing unit engaged in the business of Metal Powder Coating pulveriser. The range of pulveriser is available from 30 kgs/hr to 800 kgs/hr. For different application, where ever a powder product is required. The Metal Powder Coating usually asked the powder size about: 40-60mesh, the plastic powder can coat on the surface of the metal pipe outside or inner side, which can make metal pipe with the features of anti- corrosion, and this plastic coating metal pipe are mostly used in some Chemical Industrial. Of course, except, the powder coating, this PNMF series pulverizer also can be used in Plastics Pulverizing Including PVC Recycling, Rotational Molding, Compounding and Master batching, and suitable for the material of LDPE/LLDPE/HDPE, PVC, PS, PC, PA, PP, EVA, PBT, PET, ABS, PTFE, TPU, HIPS, AS, PMMA, Engineering Polymer, Silicon, Rubber, Woodplastic, etc.
Metal Powder Coating Pulverizer Mill Or Grinder blades:


Features
Pulverizer Disc & mill body:
The disc is made from graded material tested quality and dynamically balanced for smooth running. Inspection windows (2 nos.) Are provided on both side of mill body for visually checking the disk gap and assist the gap setting. Several options are available to simplify the cleaning process. Long service life of the discs between resharpenings.
Cooling:
For mill body, bearing housing and mill door for better result.
Bearing housing:
Bearing housing water cooled. And also using the imported SKF bearing on the main shaft, make sure the pulverizer durable and reliable.
Metal detector:
High efficeincy hopper magnet provide with the m/c. To detect the metallic inclusion parts from the polymer. Optionally, metal detector sensor will be provided on request.
Feeding:
Feeding hopper showing low level indicator. Auto tripping system available in case of overload feeding. Main motor ampere and feeding device synchronized to avoid tripping of motor due to over feed
Cyclone:
Our cyclonic system is well designed for easy cleaning. With bag filter (on request) arrangement.
Hopper:
Pneumatic hopper loader will provide on request.
Performance:
•Uniform particle size for better distribution
•Optimum material distribution
•Homogeneous material in case of colored powders.
•Low energy consumption and high throughput.
•Powder temperature monitoring device.
The PNMF series automatic plastic mill is disk-type plastic pulverizer, which has the advantages of high capacity and low-power, This machine can be used for powder processing of PE, HDPE, PP, PS, ABS, EVA, PET, nylon and other materials.
PNMF series plastic shredders can process powder sizes up to 20-120 mesh.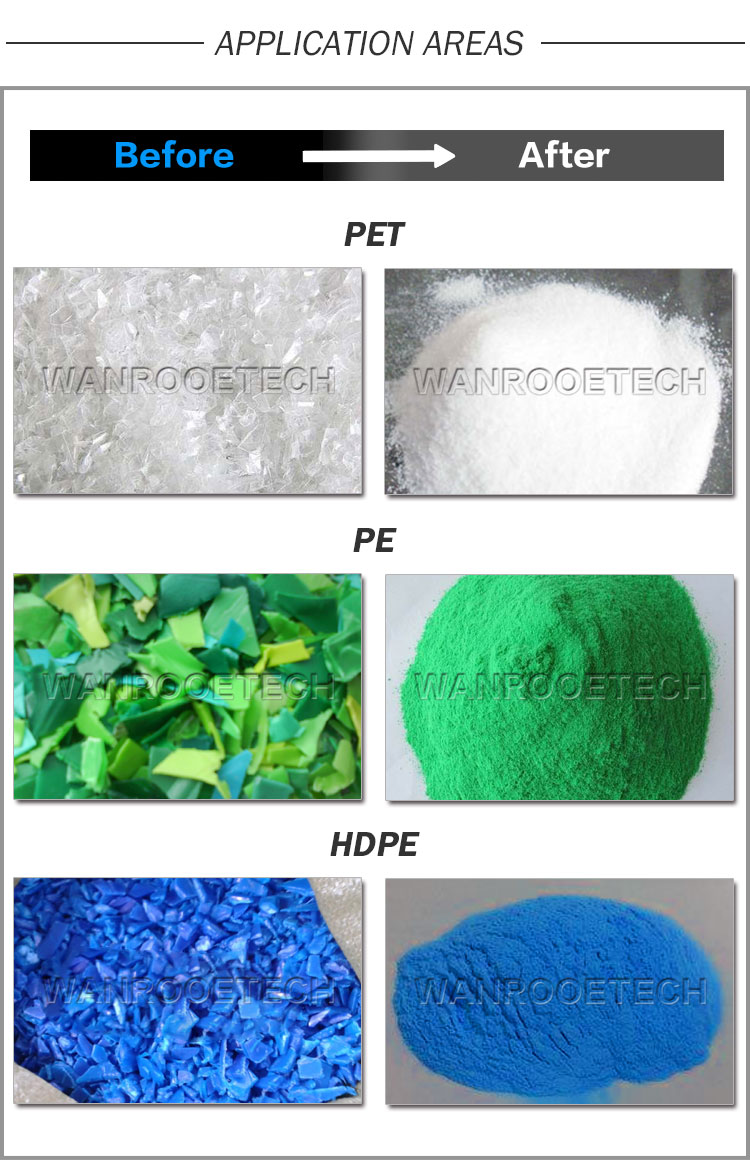 PNMF Series HDPE,LLDPE,LLDPE Pulverizer Model:
Model

PNMF-300

PNMF-400

PNMF-5

00

PNMF-600




PNMF-800

Disc Diameter

300mm

400mm

500mm

600mm




800mm

Main Motor

11-15kw

22-30kw

30kw-37kw

45kw-55kw




75kw-90kw

Air Blower

3kw

4kw

5.5kw

5.5kw




7.5kw

Vibrating Motor

0.55kw

0.55kw

0.75kw

1.1kw

1.1kw

Air Lock Motor

0.75kw

0.75kw

0.75kw

0.75kw

0.75kw

Capacity(kg/h)

30-50

50-120

120-200kg

200-350

400-600
Notes:
PNMF-500,PNMF-600,PNMF-800 model pulverizer frequency convertor can be configured as optional.The end plastic powdercapacity will be different becasue of the material status, and also the end powder size.
Product Type: Plastic Pulverizer,Metal Powder Coating Pulverizer, Plastic Coating Pulverizer
Used For Material:LDPE/LLDPE/HDPE,PVC,PS,PC,PA,PP,EVA,PBT,PET,ABS,PTFE,TPU,HIPS,AS,PMMA,Engineering Polymer,Silicon,Rubber,Woodplastic etc
Application Field:Plastic Recycling,Mastetbatch,Compounding,Blow Moulding,Injection Moulding,Extrusion Moulding.Engineering Plastic,Rotational Moulding and Many Others.
Place of origin:China
Price Terms:EXW,FOB, CIF
Payment Terms:L/C,or T/T
Package:Wood Box, Wood pallet, tailor-made
Delivery Time:15-30Working days
Brand Name:WANROOETECH
Delivery Times
30-90 working days since receiving advance payment. If you cannot wait for this suggested delivery time, please contact us freely, we will make any arrangements we can to meet your requirements.
Packing
Wood Pallet, fumigation-free wooden cases if necessary. All the key parts of the equipment will be painted with anti-rust oil before shipment and packing.
Technical documents
WANROOETECH will offer you all necessary documents, e.g. general layout plan, electrical diagram and user manual after the contract is executed.
Arrangement for inspection, installation and testing work
After informed machines ready for inspection, customer can send engineers to WANROOETECH; Customer also can consign WANROOETECH to finish inspection work.
When the machines are delivered to customer's factory, please arrange preparation work before engineers arrive if require.
WANROOETECH will send technicians to the factory after preparation work is completed;
Technicians will be responsible for guide on-site installation and testing machines involved.
Meanwhile technicians will give free training lessons to labors in customer's factory.
The customer just needs to bear expenses generated for this work, e.g. airplane tickets (round-way), residency, meals and allowance of USD50 per day for each technician.
Quantity and quality guarantee
A: Quantity/Quality Discrepancy to destination port during transportation:
In case of quality/quantity discrepancy to destination port in transportation, customer should file claim within 30 days after the arrival of the goods at port of destination.
B: Guarantee period and after-sales services:
12 month since installation finish and machine normal working. During this guarantee period, WANROOETECH will provide spare parts without any charge in case of quality discrepancy caused by us. If the malfunctions are caused by your incorrect operations, WANROOETECH will provide spare parts at cost.
C: Long-term service:
WANROOETECH will charge the buyer cost of spare parts beyond guarantee time and provide long-term technical guide.
Didn't find what you are looking for? Post a buying lead.
Plastic Rotomolding Masterbatch Powder Coating Compounding Pulverizer - manufacturer search on: Google, Yahoo, Msn
Related Searches: