PP woven bag,PP raffia bag,Jumbo big Bag Shredder
View large picture
Description

Video

Business Terms

Equipment Service
PP woven Bag Shredder General Specifications:

In the plastic recycling field, it is headache problem to recycle the PP woven bag and PP jumbo raffia woven bag, because it have very strong belt which are strengthened by Nylon fiber wire, the common crusher machine or granulator can handle it, usually are stuck, finally broken the crusher or granulator. However, our PNSS series double shaft shredder machine will be a good choice for recycling the PP woven bag, which can be configured before PP woven bag washing line and also the PP woven bag pelletizing line. The PP woven bag through our PNSS series shredders size about 50-100mm more or less, this size is still bigger in recycling, and then it can be discharged by a conveyor belt and transferred to the next second stage --- common crusher or granulator. This second stage granulator or crusher is crushing the material into pieces of about 30mm more or less. This will give great help for PP woven bag washing and pelletizing etc recycling production process.
The Shredding system is controlled by a programmable PLC to manage product flow and perform system monitoring. These machines are designed for easy field maintenance and are supported with factory replacement parts and maintenance manuals. Each plastic shredder system includes one of our heavy duty twin shaft shredders mounted on a sturdy structural base. Other accessories include infeed hopper and a custom knife group specifically chosen for each application. Custom options are available for the infeed and exit conveyors, qualifying screens, dust collectors, etc. The diagram below shows the shredder mounted on its steel base frame, the electric motor, gear reducer, and inlet hopper. The legs and mounting base are built to customer specifications to integrate with other system components.
PP Woven Bag Shredding System
1.PP woven bag feeding conveyor
2.Double shaft shredder
3.Feeding conveyor that send the PP woven bag scraps from double shaft shredder machine(here we can get the PP woven bag ships size about 50mm-100mm)
4.Second Stage PP woven bag chipes crusher machine or granulator(here we can get the PP woven bag flakes size about 30mm more or less, which can give great help for next stage recycling production process, such as PP woven bag washing machine,PP woven bag pelletizing line etc)
| | |
| --- | --- |
| | |
| PP woven bag processed by double shaft shredder | PP woven bag scraps from PP woven bag Shredder |
Application area: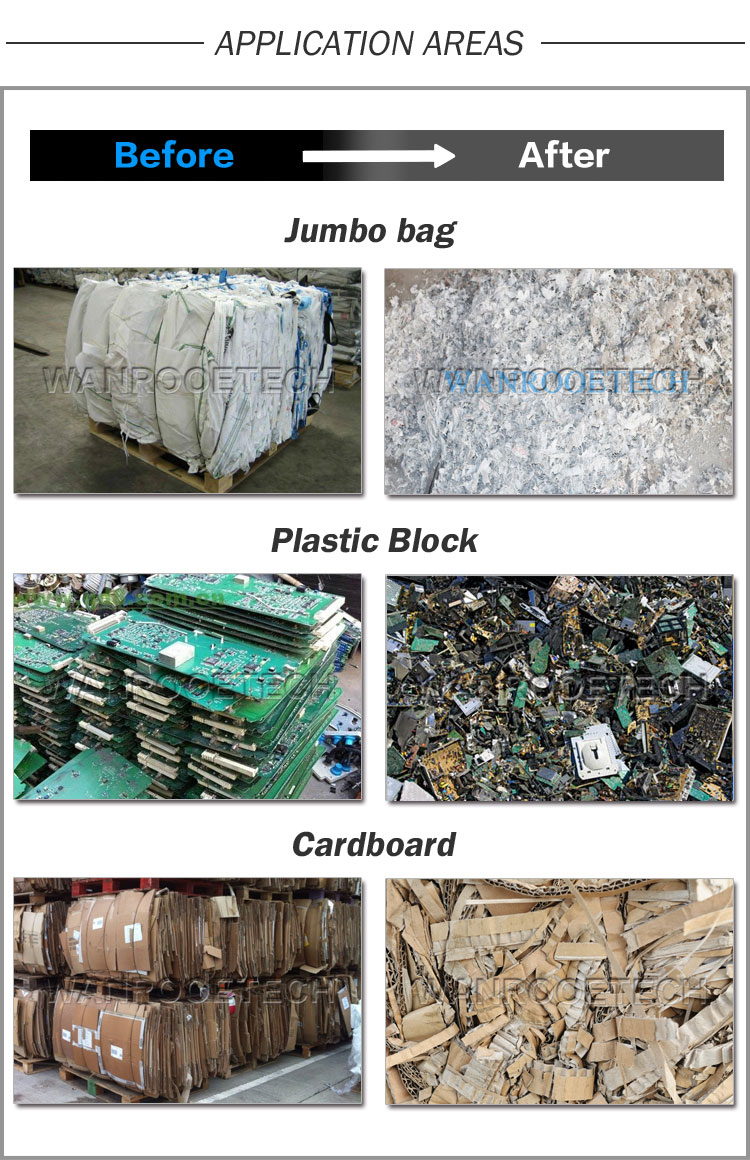 Product Type: PP woven bag,PP raffia bag,Jumbo big Bag Shredder
Used For Material: PP Rafia Bag,PP Jumbo Bag,PP woven bag,PP/PE film etc
Place of origin: China
Price Terms: FOB, CIF
Payment Terms: L/C,or T/T
Package: Wood Box, Wood pallet, tailor-made
Delivery Time: 60-90 Working days
Brand Name: WANROOETECH
Delivery Times
30-90 working days since receiving advance payment. If you cannot wait for this suggested delivery time, please contact us freely, we will make any arrangements we can to meet your requirements.
Packing
Wood Pallet, fumigation-free wooden cases if necessary. All the key parts of the equipment will be painted with anti-rust oil before shipment and packing.
Technical documents
WANROOETECH will offer you all necessary documents, e.g. general layout plan, electrical diagram and user manual after the contract is executed.
Arrangement for inspection, installation and testing work
After informed machines ready for inspection, customer can send engineers to WANROOETECH; Customer also can consign WANROOETECH to finish inspection work.
When the machines are delivered to customer's factory, please arrange preparation work before engineers arrive if require.
WANROOETECH will send technicians to the factory after preparation work is completed;
Technicians will be responsible for guide on-site installation and testing machines involved.
Meanwhile technicians will give free training lessons to labors in customer's factory.
The customer just needs to bear expenses generated for this work, e.g. airplane tickets (round-way), residency, meals and allowance of USD50 per day for each technician.
Quantity and quality guarantee
A: Quantity/Quality Discrepancy to destination port during transportation:
In case of quality/quantity discrepancy to destination port in transportation, customer should file claim within 30 days after the arrival of the goods at port of destination.
B: Guarantee period and after-sales services:
12 month since installation finish and machine normal working. During this guarantee period, WANROOETECH will provide spare parts without any charge in case of quality discrepancy caused by us. If the malfunctions are caused by your incorrect operations, WANROOETECH will provide spare parts at cost.
C: Long-term service:
WANROOETECH will charge the buyer cost of spare parts beyond guarantee time and provide long-term technical guide.