PET Flakes Twin Screw Pelletizing Granulating Machine
View large picture
Description

Video

Parameter

Business Terms

Service
This plastic granulator machine is used to make PET plastic flakes into pellet or granule.Twin screw extruder recycling & pelletizing system are applied to the waste materials, which needs high processing performance of melting, volatilization, filtering etc., mainly works for the job of PET scraps recycling and re-pelletizing.
After processing techniques such as feeding, heating, melt, cooling, drying, cutting etc., the final products are PET plastic pellets/granules that can be to produce new PET plastic products.
Screw feeder ( OPTHIONAL)→ Force feeder→ Parallel twin screw extruder →Hydraulic filer exchanger→ Mould head →water cooling tank →Plastic standard cutter→ Finished product packing.
Components: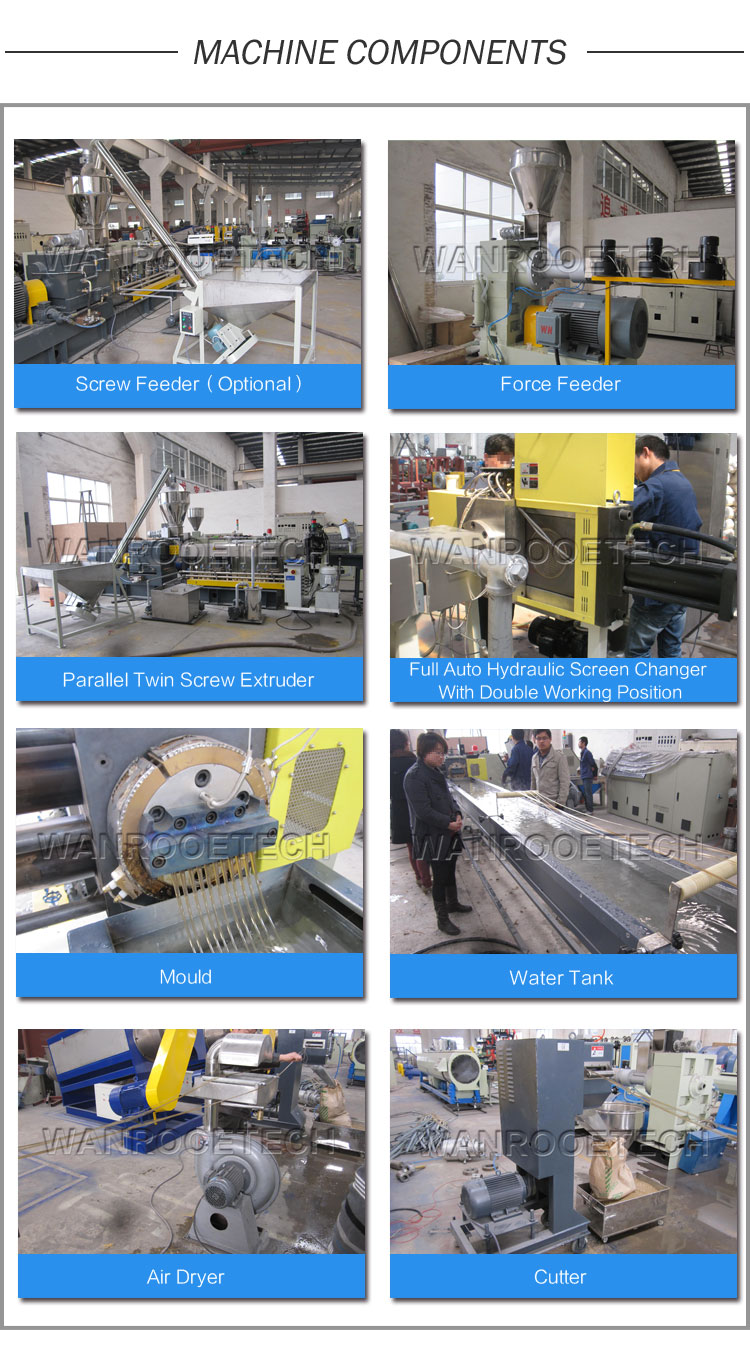 Detailed description of each items:
1. Screw Feeder : convey Plastic scraps into the main machine.
2. Force feeder: feed the material to the extruder with a designed speed, the speed can be adjust
3. Parallel twin screw extruder: plasticizing material and exhausting gas.
4. High speed Net exchanging system and Die-head: filter material impurity, to make production more stable.
5. water tank: cooling the PET noodles
6. Plastic standard cutter: cut the PET noodles into granuels .
Equipment List:
1. Allow free assembling of the screw component, based on raw material type.
2. Using the suitable die head for palletizing, such as water ring cutting, under-water cutting and hot face cutting.
3. High efficient force feeder ensures stable high capacity material feeding, low power consumption.
4. Main screw has vacuum exhaustion.
Application :
This PET plastic pelletizing machine is design specializes for recycling the recycled washed plastic PET plastic flakes/scraps, such as Cola plastic bottle flakes/scraps, purified water bottle flakes/scraps, PET sheet flakes/scraps, PET drinking bottle flakes/scraps etc.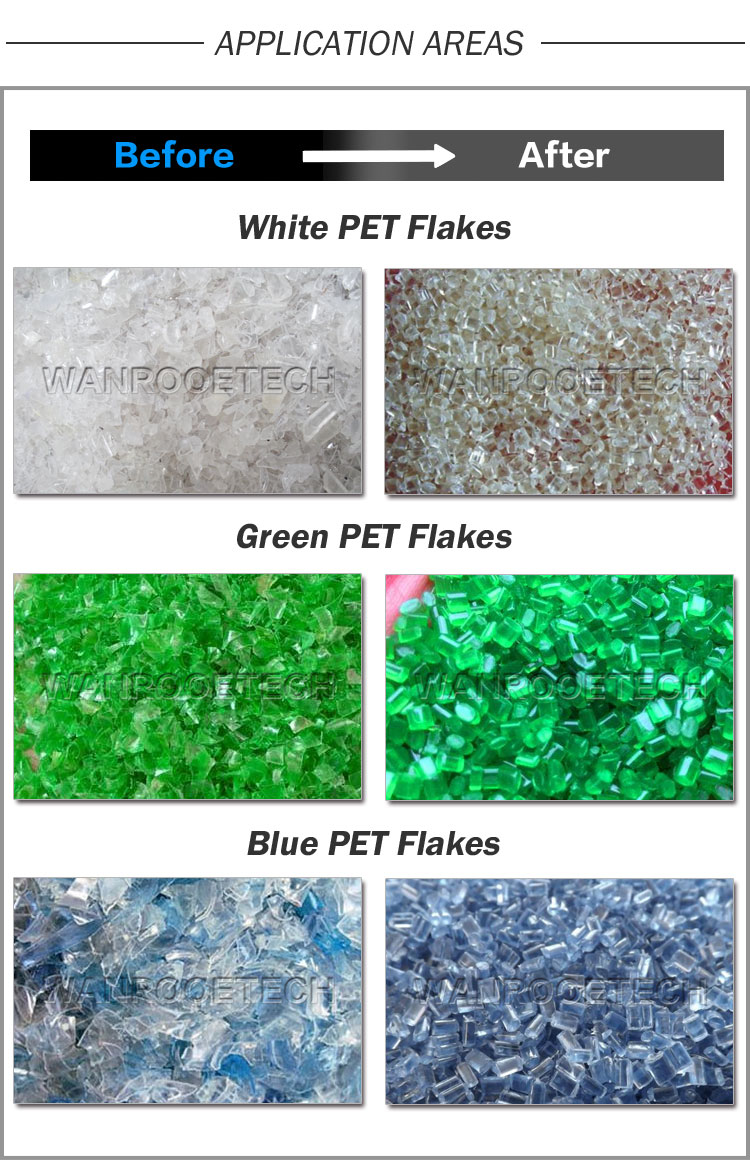 Product Type: China's High Quality Manufacturer for PET Flakes Twin Screw Pelletizing Granulating Machine
Place of origin:China
Price Terms:EXW,FOB, CIF
Payment Terms:L/C,or T/T
Package:Wood Box, Wood pallet, tailor-made
Delivery Time:15-30Working days
Brand Name:WANROOETECH
Delivery Times
30-90 working days since receiving advance payment. If you cannot wait for this suggested delivery time, please contact us freely, we will make any arrangements we can to meet your requirements.
Packing
Wood Pallet, fumigation-free wooden cases if necessary. All the key parts of the equipment will be painted with anti-rust oil before shipment and packing.
Technical documents
WANROOETECH will offer you all necessary documents, e.g. general layout plan, electrical diagram and user manual after the contract is executed.
Arrangement for inspection, installation and testing work
After informed machines ready for inspection, customer can send engineers to WANROOETECH; Customer also can consign WANROOETECH to finish inspection work.
When the machines are delivered to customer's factory, please arrange preparation work before engineers arrive if require.
WANROOETECH will send technicians to the factory after preparation work is completed;
Technicians will be responsible for guide on-site installation and testing machines involved.
Meanwhile technicians will give free training lessons to labors in customer's factory.
The customer just needs to bear expenses generated for this work, e.g. airplane tickets (round-way), residency, meals and allowance of USD50 per day for each technician.
Quantity and quality guarantee
A: Quantity/Quality Discrepancy to destination port during transportation:
In case of quality/quantity discrepancy to destination port in transportation, customer should file claim within 30 days after the arrival of the goods at port of destination.
B: Guarantee period and after-sales services:
12 month since installation finish and machine normal working. During this guarantee period, WANROOETECH will provide spare parts without any charge in case of quality discrepancy caused by us. If the malfunctions are caused by your incorrect operations, WANROOETECH will provide spare parts at cost.
C: Long-term service:
WANROOETECH will charge the buyer cost of spare parts beyond guarantee time and provide long-term technical guide.
Didn't find what you are looking for? Post a buying lead.
PET flakes Plastic Strand pelletizing line - manufacturer search on: Google, Yahoo, Msn
Related Searches: