HDPE Bottle And Film Crushing Washing Machine
View large picture
Description

Video

Parameter

Components
Description :
HDPE Bottle And Film Crushing Washing Machine is widely used to washing recycling the used PP/PE/hdpe plastic soft plastic. Such like shopping bags, packing films, garbage bags, woven bags, non-woven bags and films. This recycling machine can crushing washing and drying the dirty soft plastic into clean film flakes.
After plastic film/bag flakes cleaned, you can make them into pellets/granules with next process, which called plastic pelletizing machine.
This production line is high automatic operating and low consume, can save labor, save power and save water, easy to maintenance.
With advanced design, concepts and technologies to suit different status of waste plastic bags/films. This PP PE plastic recycling machine could layout as "L", "S" or "U" shape according different workshop.
Process Flow:
Features :
To crushing washing recycling the used, dirty waste PP PE films/bags, protect the environment, Avoid white pollution.
This recycling line is composed of crusher, cold & hot washing system, dewatering, drying, packing system, etc.
This PP PE waste plastic crushing, recycling and washing recycling machine line can easily wash and recycle waste PP PE films/bags. Waste and dirty PP PE films/bags can be processed step by step, by this recycling machine. It is special for washing PP PE films/bags. We can help to attach equipment at the end of the washing recycling line so that the completely dry flakes can be collected and packed directly after been washed.
The whole production line can designed based on how dirty the PP PE films/bags are, and make sure of the quality of the final products.
Coordinating the production line with follow programmed work (granulating system), and it will make waste and dirty PP PE films/bags to be the PP PE granules material and in order to producing new PP PE products.
Application Areas:

HDPE Bottle And Film Crushing Washing Machineof Wanrooetech is capable of processing a wide range of hard and soft plastic waste, for example, Agriculture Film, LDPE polyethylene films, greenhouse films, package films and bags,Big bags (Raffia), HDPE/PP bottles, barrels, box, etc.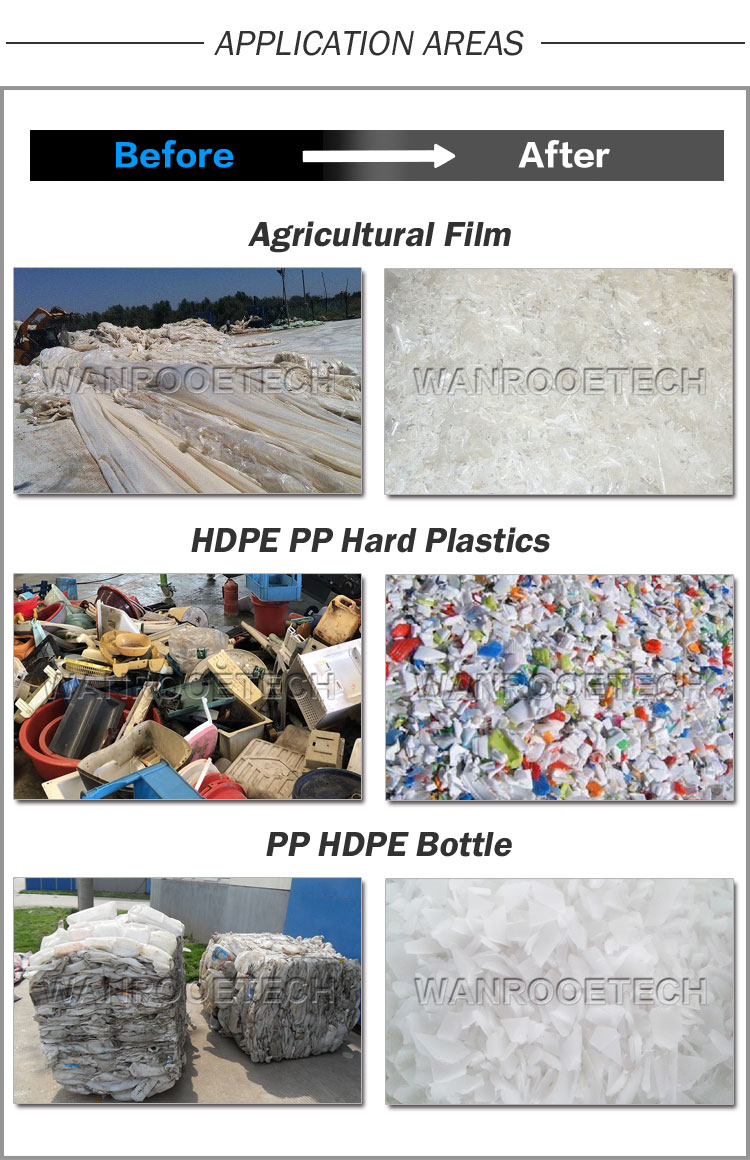 Input capacity

500kg/h

1000 kg/h

2000 kg/h

Workshop(M*M*M)

42 (L)×10(W)×6(H)

55(L)×15(W)×6(H)

70(L)×18(W)×6(H)

Ancillary staff

6Persons

8 Persons

12 Persons

Installation power

156KW

307KW

420KW

Water Consumption:

2Ton/h

3.5Ton/h

5 Ton/h

Final product

Moisture: max 1%

Bulk density: 0.3G/CM3

Particle size: 14-18mm

Metal content: max.20ppm

Floatable contamination: less than 200ppm

Total impurity: 320ppm

Moisture: max 1%

Bulk density: 0.3G/CM3

Particle size: 14-18mm

Metal content: max. 20oom

Floatable contamination: less than 200ppm

Total impurity: 320ppm

Moisture: max 1%

Bulk density: 0.3G/CM3

Particle size: 14-18mm

Metal content: Max. 20ppm

Floatable contamination: less than 200ppm

Total impurity: 320ppm