pvc cable material pulverizer,pvc scrap pulverizer,pvc mill
View large picture
Description

Video

Componments

Business Terms

Service
Description:
WANROOETECH's PNMF series pulverizer has the features of extremely high output, lower consumption, compact size design which take less workshop area, which can be equipped with a automatic temperature control(optional). The material to be pulverized is fed centrally between a stationary and a high speed rotating grinded disc, and because of the centrifugal effect, that carries the grinded material through the processing zone before being discharged with the machine pneumatically. The pulverizer operate without an internal screen and the particle size of the product is determined by the type of material being processed, the disc construction and the processing gap between the discs. According to final product requirements of customer a screening machine with a feedback unit can be simply incorporated into the pulverizer system.
Features:
1.Low energy consumption, and high output.
2.Simple to operate and install.
3.There is disc adjustment device, which can allow you to adjust the gap between the stationary disc and rotating disc, finally to control the powder fineness, and meet different needs.
4.Produce fine micro powder
5.The high-quality blades are easy to replace and can be used for several times after regrinding.
6.The disc material are adopted alloy steel with HRC up to 63
Application:
PNMF series Pulverizers are intended to the pulverizing of mid-hard, breakable to high impact plastics that need the ultimate material in powder form. Pulverizers are mainly used for PVC, PP, PC, EVA. PS, PES, PE, LDPE, HDPE other different types of plastics. The input material required for pulverizer must be in a crush form with a maximum size of 6-8 mm
Pulverizer is used in plastic industry for Plastics Pulverizing Including PVC Recycling, pvc cable material recycling,Rotational Molding, Compounding and Master batching.
To deal with PVC, we have two methods by using two different discs. One is using segment disc, the other is to use whole disc, it would be better to coat Tungsten, then the disc can serve a longer time.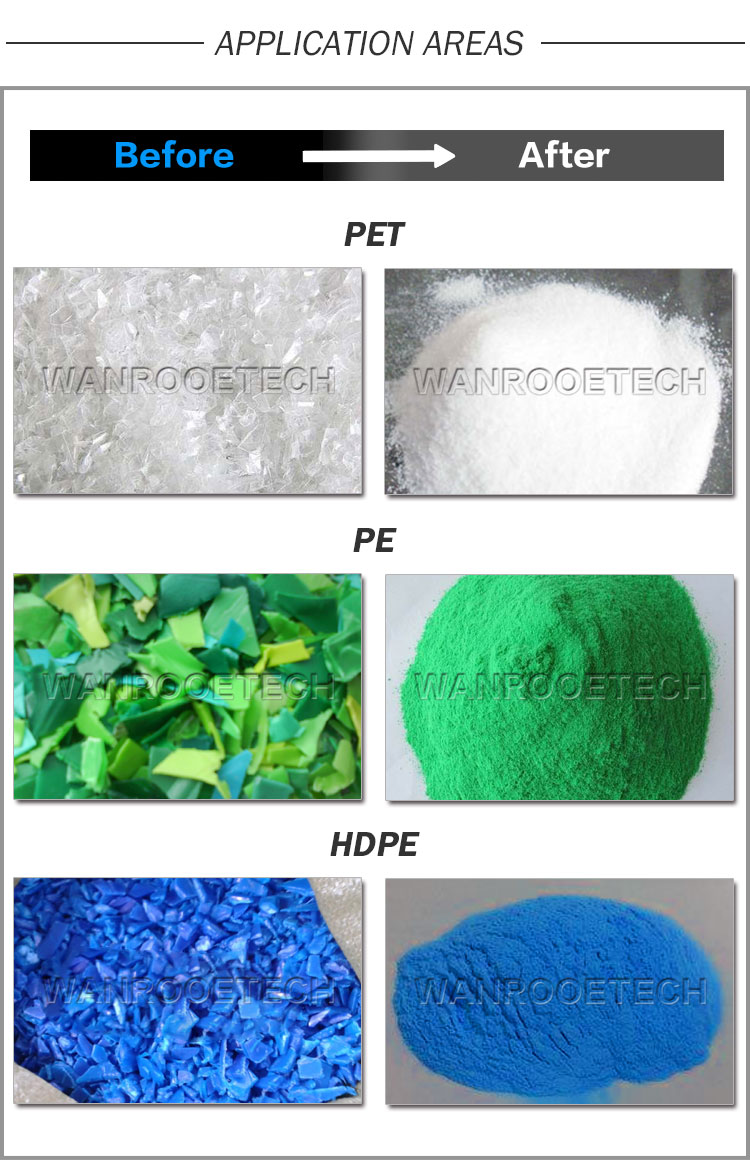 Parameter:

Model

PNMF 300

PNMF 400

PNMF 500

PNMF 600

PNMF 800

Disc Diameter(

mm

)

300

400

500

600

800

Main motor(kw)

11-15

22-30

37-45

45-55

75-90

Vibrating motor(kw)

0.75

0.75

0.75

1.1

1.5

Capacity(kg/h)

30-50

50-120

100-300

200-400

400-800

Cooling method

Air cooling and water cooling

End power size

15-120mesh
Product Type: China's Better Quality Manufacturer for pvc cable material pulverizer,pvc scrap pulverizer,pvc mill machine
Used For Material:PVC Pipe, PVC Label, PVC hosepipe, pvc cable material,PVC regrind material etc
Application Field:PVC recycling
Place of origin:China
Price Terms:EXW,FOB, CIF
Payment Terms:L/C,or T/T
Package:Wood Box, Wood pallet, tailor-made
Delivery Time:15-30Working days
Brand Name:WANROOETECH
Delivery Times
30-90 working days since receiving advance payment. If you cannot wait for this suggested delivery time, please contact us freely, we will make any arrangements we can to meet your requirements.
Packing
Wood Pallet, fumigation-free wooden cases if necessary. All the key parts of the equipment will be painted with anti-rust oil before shipment and packing.
Technical documents
WANROOETECH will offer you all necessary documents, e.g. general layout plan, electrical diagram and user manual after the contract is executed.
Arrangement for inspection, installation and testing work
After informed machines ready for inspection, customer can send engineers to WANROOETECH; Customer also can consign WANROOETECH to finish inspection work.
When the machines are delivered to customer's factory, please arrange preparation work before engineers arrive if require.
WANROOETECH will send technicians to the factory after preparation work is completed;
Technicians will be responsible for guide on-site installation and testing machines involved.
Meanwhile technicians will give free training lessons to labors in customer's factory.
The customer just needs to bear expenses generated for this work, e.g. airplane tickets (round-way), residency, meals and allowance of USD50 per day for each technician.
Quantity and quality guarantee
A: Quantity/Quality Discrepancy to destination port during transportation:
In case of quality/quantity discrepancy to destination port in transportation, customer should file claim within 30 days after the arrival of the goods at port of destination.
B: Guarantee period and after-sales services:
12 month since installation finish and machine normal working. During this guarantee period, WANROOETECH will provide spare parts without any charge in case of quality discrepancy caused by us. If the malfunctions are caused by your incorrect operations, WANROOETECH will provide spare parts at cost.
C: Long-term service:
WANROOETECH will charge the buyer cost of spare parts beyond guarantee time and provide long-term technical guide.